Machine Tool
Work Gripper
AS series
Pneumatically operated stationary chuck
Can be used as an alternative to fixture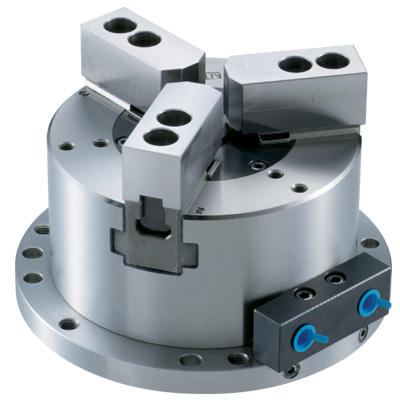 AS series
Small and lightweight design with built-in air cylinder
Easy mounting by air piping
Hollow structure optimal for bar workpiece and air blow
Standard Soft Jaws for Kitagawa Power Chuck are used.
Lock valve unit ensures constant and regular gripping force in all machining conditions.
2, 4 or 6 units can be installed on a multi-plate for multiple work pieces setting.
*CE correspondence
Product Specifications
Model
AS04
AS06
AS08
AS10
Jaw Stroke (Diameter) (mm)
5.2
5.2
6.3
6.3
Gripping Force (kN) (at Pneumatic 0.6 Mpa)
7.5
21
33
48
Max. Pneumatic Pressure (MPa)
0.7
0.7
0.7
0.7
Gripping Diameter (mm)
Max.
110
165
210
254
Min.
8
26
38
53
Net Weight (kg)
7.3
16
27.7
42.5
Matching Soft Top Jaw
SB04B1
SB06B1
SB08B1
SB10A1
Outline Drawing
PDF
DXF
DWG