Machine Tool
Pull Lock Work Gripper
PLS series
Stable cutting is guaranteed through the high precision and exceptional gripping performance.
Can be used as alternative to a fixture.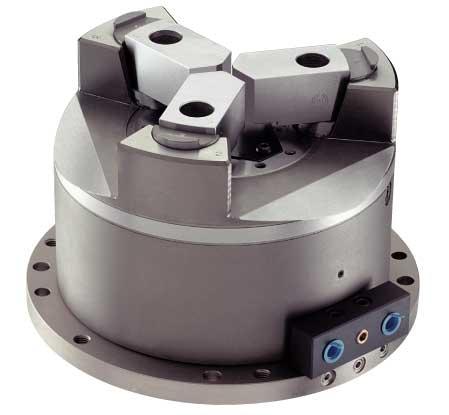 PLS series
Stable cutting is performed by high precision and high gripping force
The optional seating confirmation is ideal for automated production.
Multiplate system also accommodates PLS series to multiple machining.
Built-in cylinder and thin and compact design gives wide machining area.
*CE correspondence
Product Specifications
Model
PLS04
PLS06
PLS08
Jaw Stroke (Diameter) (mm)
3
5
5
Plunger Stroke (mm)
6
10
10
Gripping Force
(kN)
at Pneumatic 0.6 Mpa
Soft top jaw
6.7
18.5
37
Hardened top jaw
7.4
22
40
at Hydraulic 1.3 Mpa
Soft top jaw
16
40
80
Hardened top jaw
17.4
45
84
Max. Pressure (MPa)
Pneumatic
0.7
0.7
0.7
Hydraulic
1.3
1.3
1.3
Min. Presssure (MPa)
0.2
0.2
0.2
Gripping Diameter (mm)
Max.
50
69
89
Min.
5
8
8
Net Weight (kg)(with Soft Top Jaws)
7.4
18
33
Outline Drawing
PDF
DXF
DWG